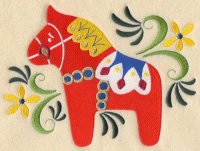 Mt. Jewett Borough is surrounded by Hamlin Township in McKean County, Pennsylvania. Residents take pride in their Swedish heritage all year long, and hold an annual celebration – the Mt. Jewett Swedish Festival – during the second week in August.
Mark your calendar — The 2018 Mt. Jewett Swedish Festival will be held August 10, 11, 12.
The annual three-day community-wide event includes the crowning of royalty, parade, fireworks, Swedish smörgåbord, car show, amusements, arts and crafts, and musical performances.
Mt. Jewett is also the gateway community to the Kinzua Bridge Scenic Byway and the historic Kinzua Bridge State Park, site of the Kinzua Viaduct, originally used to carry trains across the Kinzua valley overlooking the town of Kushequa, Pennsylvania. Originally constructed in 1882, the structure was the highest iron bridge in the world. In 1900 it was turned into a steel structure. Upon becoming a state park, an independent company used the bridge to carry sight seers and tourists across the valley in an old steam locomotive. On July 21, 2003 the structure was hit by a tornado. All that remains is a portion of the bridge and a small section of railroad track at each end of the valley.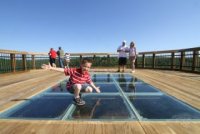 The Viaduct has since been reinvented as the Kinzua Sky Walk — a spectacular walkway that allows the public to "Walk the Tracks Across the Sky." Visitors can walk out 624 feet into the Kinzua Gorge and peer down over 300 feet into the valley below through the partial glass floor on the observation platform.
The Kinzua Bridge State Park features picnic areas, hiking trails, interpretive programs, group tent camping, and scenic overlooks. A park pavilion may be rented for special events.
A notable example of Swedish architecture, the Nebo Chapel built in 1887, is an octagonal shaped Lutheran church patterned after Ersta Kyrka at Danviken, near Stockholm, Sweden. According to the plaque near the chapel, the name "Nebo" comes from the mountain where the Old Testament Patriarch Moses stood when he viewed the Promised Land. The chapel is still used for special occasions like weddings and funerals, the annual Swedish festival, and Ascension Day Vesper Services. The founding settlers are buried in a cemetery on the chapel grounds.